raising the bar on beef
Meet your secret weapon in the kitchen. Chairman's Reserve® Angus Beef was crafted with you in mind. Beautifully marbled. Juicy. Delicious. It's like bringing the steakhouse home.
Impressive presentation meets unmatched taste. The T-bone includes both a strip steak and a tenderloin. This cut is ideal for high-heat cooking on the grill or under a broiler.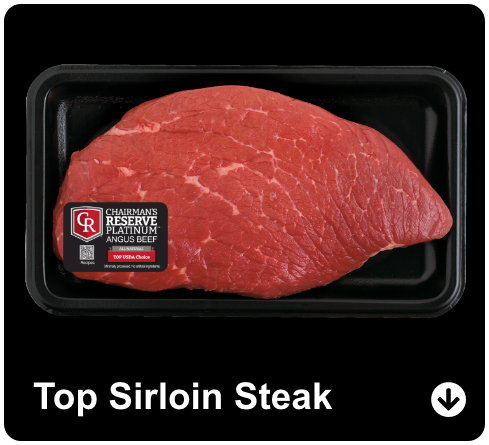 Top sirloin is a lean steak that still retains a large amount of flavor and juiciness. This steak's leanness makes it perfect for grilling on a skewer.
This gorgeously marbled roast with no bones can be served whole or cut into ribeye steaks that are perfectly portioned for the grill.
The flat iron is the second most tender cut of beef. A delicious little steak from the shoulder, this flavorful cut is great for grilling.
This cut is infinitely versatile when paired with different seasonings and spices. It's the quintessential grilling experience.
This cut makes the most tender steak. Sold boneless with a buttery texture, this lean yet succulent cut is perfect prepared on a grill, skillet or under a broiler.
Angus beef offerings
Creating a standout dish starts with quality meat. Our wide selection of flavorful beef can take any recipe to the next level.
beef cut basics
Become a beef aficionado by learning about the most popular cuts, where they come from and their top cooking methods.
why is marbling important?
See the small white flecks of intramuscular fat? That's marbling. Marbling affects tenderness and overall eating experience. As beef cooks, the fat melts, keeping the meat moist and flavorful. You can be sure that all Chairman's Reserve Meats products will have beautiful, ample marbling. In fact our Chairman's Reserve Platinum® Angus Beef is just one grade away from Prime, the highest quality grade of beef.
conquer cravings
Protein found in beef helps you feel satiated, meaning you'll feel fuller longer.
make your workouts work for you
Exercise is more effective when paired with a higher-protein diet and helps with muscle-building and recovery.
thawing meat
Keep in refrigerator until completely defrosted.
In a hurry? Run cool water over packaged meat until thawed.
Don't let meat sit in water and never use warm water for thawing.
For best results, do not thaw and re-freeze any fresh meat as the quality degrades slightly each time.
when is beef done?
It depends how you like your steak (we recommend medium-rare). Here's how to check doneness: while cooking, insert a meat thermometer into the thickest part of the meat, away from any bones. The temperature will continue to increase about 5°F once you take it off the heat (which is known as "resting").
All ground beef should be cooked to 160°F, with no resting time required.
Use our slider for an idea of how it will look.
Rare
125°
Medium-Rare
135°
Medium
145°
Medium-Well
150°
Well Done
160°
Experience the quality.
Find a store near you.
Is your mouth watering yet?